Women's Motorcycle Show 2020 details are here!
That's right! The fifth annual Women's Motorcycle Show goes down in LA on February 22nd, 2020. We've got a new location, longer hours, and more good stuff to enjoy. Are you new to the show? Check out last year's review video and photo gallery to get an idea of what sort of fun we have in store for you.
When:

3p-12a | Saturday, Feb 22


Where:

House of Machines LA
2028 E 7th St, Los Angeles, CA 90021 (get directions)
$10 General Admission – All attendees welcome!
Pre-sale tickets available through Eventbrite, Facebook, and at the door. (No refunds.)
Save 50% online Feb 3 through Feb 6 at 6p with promo code MOTOLADY50.
An all-day event celebrating women who ride and the wide spectrum of motorcycles that move them. Enjoy custom display bikes, art, short films, live music, an epic raffle, full bar, awesome food choices... and demos from Real Deal Revolution! Try your hand at MIG and TIG welding, pinstriping, and blacksmithing.
To submit your bike, fill out this google form (requires google sign-in). If you show your art, sponsor the show or raffle, or have problems with the bike submission form... send an email to womensmotoshow@gmail.com!
Because we love surprises, we'll continue to update the WMS Facebook event schedule with our feature bands, raffle schedule, etc. Stay tuned to our Instagram and Facebook pages as we reveal new raffle prizes, our feature bands, show bikes, and featured artists!
Scroll down for full show schedule.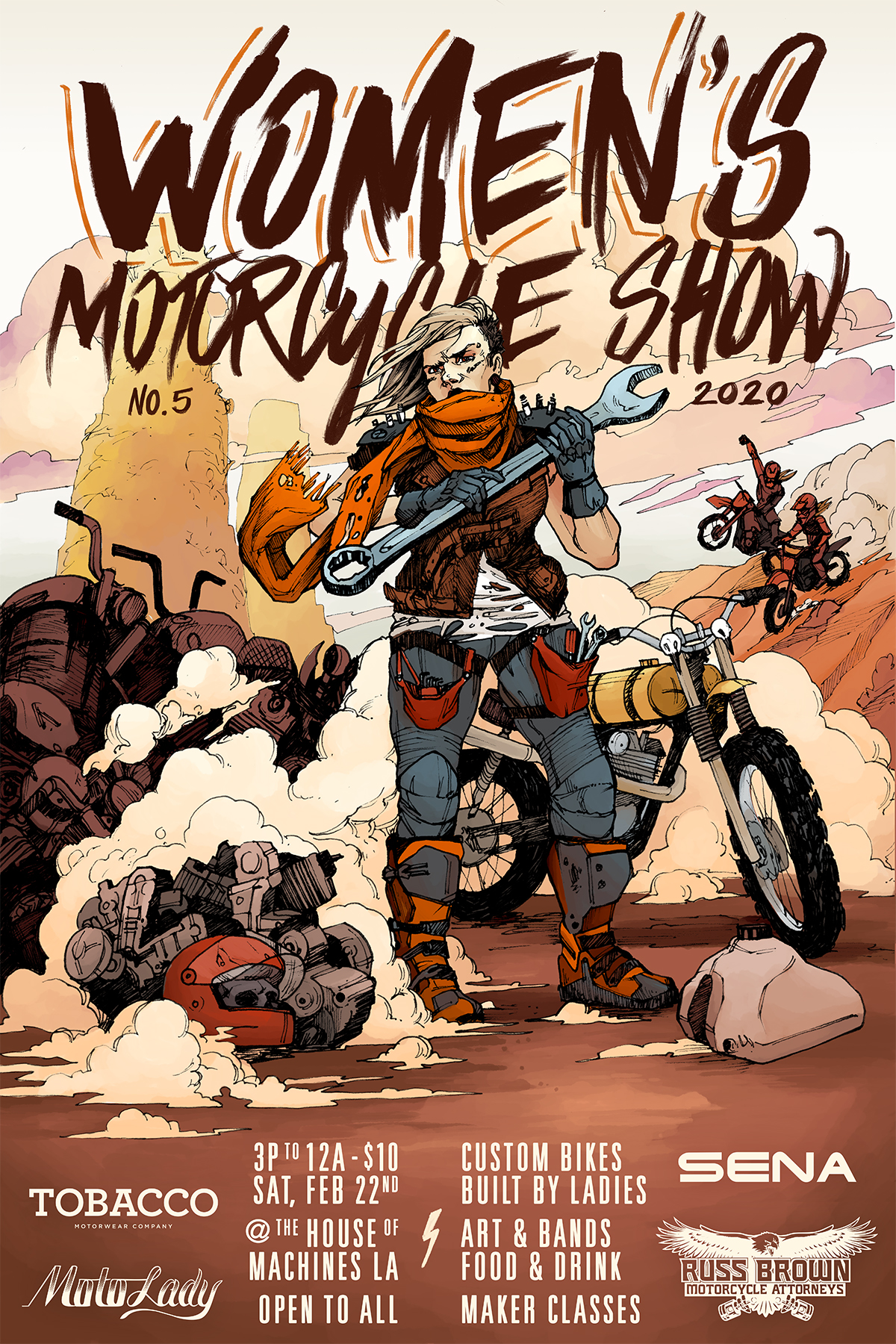 Buy Tickets Now
Skip the hassle at the door, secure your spot now.
Schedule
‣ 3:00 PM | Doors open
‣ 4:00 PM - 6:00 PM |
Real Deal Demos Daytime
‣ 8:00 PM - 10:00 PM |
Real Deal Demos Nighttime
‣ 8:00 PM - 11:59 PM |
Live Music
‣ 11:00 PM | Awards & Raffle Announcements
More about the House of Machines LA
A full bar, coffee shop, restaurant, music venue, all attached to a motorcycle shop! Check out the House of Machines instagram.
Show us your motorcycle!
If you've got a custom, rare, or race motorcycle built by you or for you, drop us a line!
Get Tickets
All-day General Admission tickets $10. Skip the hassle, buy 'em before hand!
Work With Us
Would you like to promote your brand with the Women's Motorcycle Show? We have multiple opportunities for cross-promotion that reward amazing women motorcyclists for their hard work.